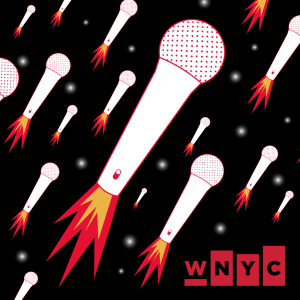 We're thrilled to introduce the finalists of the WNYC Podcast Accelerator at ONA15. The seven finalists (representing five podcasts) are now receiving coaching and guidance from WNYC and ONA staff as part of this new program, the first of its kind to provide production advice, industry connections, mentorship and a platform for creating remarkable audio content. The podcasts were selected from almost 400 entries.
The finalists  will head to Los Angeles in September to pitch their projects to a panel of judges in front of a live audience of conference attendees at an ONA15 special event.
Judges
Dean Cappello, WNYC's Chief Content Officer;
Emily Botein, WNYC's Vice President of On-Demand Content
Glynn Washington, Host and Creator, Snap Judgment
Judges will select and announce one grand-prize winner at ONA15, who will go on to make a pilot episode of their show produced by WNYC, thanks to generous support from MailChimp. While the judges are deliberating, we'll discuss all things podcasts with some of the most creative minds behind this unique digital audio medium.
The finalists of the WNYC Podcast Accelerator at ONA15 are:
Robin Amer reports from Chicago on the changing landscape of America's cities. Her work has been aired and published by Marketplace, Detour, WBEZ, DNAinfo and other outlets and has been recognized by the Society for Professional Journalists and the Chicago Headline Club. She spent six years as a host and digital producer at WBEZ Chicago Public Media and received her master's degree from the Medill School of Journalism at Northwestern University, where she was also a fellow in investigative reporting. 
Katie Herzog (jointly with Betsy Herzog After) is a Seattle-based writer and audio producer. Her work has been featured on Salon, The Guardian, Vox, and she forcibly subscribed all 1501 of her email contacts to a bi-weekly newsletter. Herzog is a staff writer at Grist, and she is currently at work on a book of essays. Look for it in stores in 2027.
Betsy Herzog After (jointly with Katie Herzog) is a longtime podcast listener, first time host. To her parents she is known as "Twin B" and to her sister, Katie, she is known as "Little Sister" even though she was actually bigger by almost two pounds at birth. Betsy lives in Carbondale, Colorado with her husband, Brion, and baby, Julius. Betsy works as a fundraiser at Rocky Mountain Institute, a nonprofit organization that works to get the U.S. off fossil fuels and protect the environment. She and Brion own an outdoor store and spend their free time exploring Western Colorado on foot, bike, or skis.
Katarína Richterová is a Slovak journalist reporting in English. She is a host and reporter at Radio Slovakia International (RSI) where she tries to shed light on the country, it's good and bad sides and all the things in between. She's a correspondent for the Austrian Public Broadcast station FM4 and in the past cooperated on a number of international radio projects and contributed several reports to CNN. She's currently madly in love with podcasts and tries to spread the word about them in her home country.
Emily Hsiao (jointly with Michael Tapp) is an independent radio producer and a proud graduate of the Transom Story Workshop. She lives and works in Brooklyn, NY.
Michael Tapp (jointly with Emily Hsiao) is a videographer who has been working in documentary-style storytelling for the past eight years. His work has been published in TIME and The Atlantic, and he shoots regularly for Starwood Hotels and Ralph Lauren.
Tobin Low (jointly with Kathy Tu) is a radio and digital producer based in New York. Before joining the digital team at Marketplace, he nerded out for Marketplace Tech. He's produced and reported for Marketplace, WFMT in Chicago, and Q2 Music. A graduate of the Transom Story Workshop, he was also a New Voices Scholar at the 2014 Third Coast Festival Conference. Tobin attended circus camp as a child.
Kathy Tu (jointly with Tobin Low) is an independent radio producer and sometimes web developer (if you ask nicely) based in Los Angeles. Highlights in radio include graduating from the Transom Story Workshop, receiving the Åke Blomström Memorial Prize, and stalking everyone at Radiolab. Kathy did not attend circus camp as a child.
What happens next
In the coming weeks, the finalists will receive virtual mentoring from WNYC producers to help hone their pitches, including developing story lines, characters, sound, texture and voice. Participants will also have two virtual meet-ups to share ideas and progress with their fellow finalists, as well as receive support from ONA's digital director and a WNYC producer. Finalists also receive complimentary registration to attend ONA15.
At ONA15, their intensive prep will culminate in a live pitch session in front of the judges.
While judges deliberate on a winner, we'll be hosting a lively conversation about podcasting with Al Letson,  host of Reveal and and Errthang; Lauren Lapkus, actress and comedian, who guests constantly on With Special Guest Lauren Lapkus; Sean Rameswaram, host of Sideshow; Anna Sale, host of Death, Sex & Money;  and Manoush Zomorodi, host of WNYC's Note to Self. You can follow the conversation online with #ONA15wnyc.
Are you interested in creating your own podcast? We're offering workshops on how to how to start a podcast and improve your current set up.