HBCU Digital Media Fellowship at ONA15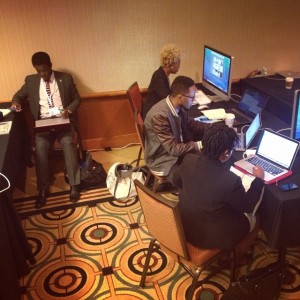 Sponsored by Knight Foundation
The HBCU Digital Media Fellowship provides students advanced exposure and practical knowledge of emerging technologies, tools and approaches to reporting and distributing news online. Five students from Historically Black Colleges and Universities receive a hands-on experience during the three-day Online News Association Conference & Awards Banquet, Sept. 24-26 in Los Angeles.
Supported for the second year by the Knight Foundation, these students receive an all-expense-paid trip to the conference, as well as a free one-year ONA membership. Over the three days, they work closely with lead mentor Michael Grant, Designer/Web Producer, San Francisco Chronicle, and Michelle Johnson, the ONA Student Newsroom Chair and Associate Professor of Practice, Multimedia Journalism at Boston University to produce multimedia packages for the conference and participate in intensive data journalism training.
2015 HBCU Digital Media Fellows
Taylor Tiamoyo Harris
Howard University
@ladytiamoyo
Taylor Tiamoyo Harris is a senior at Howard University. Throughout college, she has worked in student media including The Hilltop, Spotlight Network, One Mile Entertainment and hosts a weekly radio sports talk show with Glasshouse Radio. Taylor has interned at the Washington Post and Dallas Morning News. She has received awards and honors from the Columbia Press Association, Texas Women's Press Association, National Association of Black Journalists and Investigative Reporters and Editors.
---
LaCrai Mitchell
Florida A&M University
@LaCraiMitchell
LaCrai Mitchell is a senior broadcast journalism student at Florida A&M University. In 2013, Mitchell co-produced a nationally acclaimed news magazine show that won the university its first Academy of Television Arts & Sciences' student Emmy award. In 2014, Mitchell interned with CNN in Atlanta, Ga., as a CNN International Newsource intern. This year, Mitchell was one of six students selected from across the country to receive a fellowship from CBS News in New York. LaCrai currently interns with CBS' 48 Hours.
---
Jayson Overby, Jr.
Morehouse College
@jjjjjase
Jayson Overby, Jr. is a junior at Morehouse College and serves as Editor-in-Chief for The Maroon Tiger Student Media Group (MTSMG) directing all long-term projects of the organization and overseeing all senior managers of the three branches of MTSMG. He is the Co-Founder and Creative Director of WHTESPCE, a creative studio specializing in streamlining artists, brands and products.
---
Jourdan Kerl
Prairie View A&M University
@JourdanKerl
Jourdan Kerl is a senior at Prairie View A&M University studying computer science with a minor and focus on broadcast journalism. Jourdan's passion is sports reporting and she has interned at KCOH-AM and NBC Sports Group.
---
Phillip Jackson
Hampton University
@philljabstract
Phillip Jackson is a junior at Hampton University majoring in journalism with a focus in print and online writing. Phillip has served as the Arts & Entertainment Editor for The Hampton Script and founded the blog, Writingwhileblck.com. He has interned with WETA-TV, The Root and was selected for the 2015 Politico Journalism Institute.
---
Selection Committee
Michael Grant, Designer/Web Producer, San Francisco Chronicle, HBCU Digital Media Fellowship Lead Mentor
Marshall Latimore, Special Sections Designer, GateHouse Media
Rochelle Riley, Metro Columnist, Detroit Free Press
Irving Washington, Deputy Director, Online News Association
Benet Wilson, Owner/Editor-In-Chief, Aviation Queen LLC, ONA Board Member and Diversity Chair