ONA's annual conference is a great time to meet and network with colleagues from around the world. We hope you carry the energy and inspiration that you get from our community back to your own to improve your work, share tips and connect with other digital journalists.
To help you keep the momentum going, join our ONA Local program. Our 50 ONA Local groups around the world connect more than 10,000 journalists, technologists and educators through meet-ups and professional development events. Getting involved is a great way to collaborate with others who are passionate about digital journalism.
The key to the ONA Local program is our hard-working organizers — all of our groups are led by passionate journalists who care deeply about their local media scenes. A huge thank-you to all of them!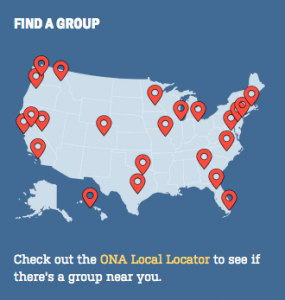 1. Check out our ONA Local maps to find a group near you or see if you're in a location that needs a new group.
2. Meet with our Local leaders and members at ONA15!
Here's how:
Come mix and mingle with our wonderful ONA Local leaders and groups in our annual get-together on the Midway. We'll be the rowdy bunch shouting out which city we're from and sharing stories about the innovative meet-ups we've hosted since ONA14.
ONA Local: Creating Great Events for Learning, Networking and Fun
Interested in starting local meetups for journalists in your community? Already organizing local events ?  Hear from seasoned organizers, including ONA Boston's Tiffany Campbell and Catherine Cloutier. Get ideas for great meetups, share tips from your most successful events and find out new ways to build community.