We asked ONA Board Member Kim Bui, Deputy Managing Editor at First Look Media living in Los Angeles, to pull together tips for your trip to ONA15. 
---
Los Angeles is super excited to have you here, ONA friends. September is a great time in the city, and here's to hoping that you can tack on an extra day or so to see the rest of LA while you're here.
Below is a little list of things you should check out while you're in the City of Angels, organized by whether you have a car or don't have a car at your disposal.
About that: You might not think it, but LA has pretty great public transit. The bus system gets you most anywhere and our trains run on time (mostly) and are mostly shiny and new. Uber, Lyft and all those other ride services can get you anywhere else and they're the preferred mode of transportation if you're going to be engaging in a significant amount of libation.
You'll probably want a drink
Near: It's understandable that you'll want to have at least a few drinks at the hotel bar (which is pretty nice), but you might also consider Season 52, which is a chain, but has a great wine list.  If you don't mind a bit of a hop, there's a very kitschy vampire themed Vampire Lounge and Nic's in Beverly Hills, which has martinis that are strong enough that you'll only need one, maybe two. SmithHouse is more of a beer kinda place. The Cellar is open during the week, too.
Not so near: Downtown LA is the hot spot for drinking and eating in LA, so if you get a chance, head to my favorite The Varnish, which is a speakeasy in the back of Cole's famous French Dip spot. If the bar is full, you can get drinks that are just as tasty at the Red Car Bar in the front of Cole's. If you want a brewery tour, my friend Jolie recommends any of the following tours, all of which are in the South Bay, about 30-ish minutes away: Monkish, Phantom Carriage, Smog City, Three Weavers and  El Segundo Brewing.
We like food here, a lot
Everyone asked for taco recommendations.
Guisados, either on the east side or downtown, is great, but the best truck in town is Leo's Tacos, a 20-minute drive from the hotel. It's known for its al pastor. Lucy's, which has several locations, is a great spot for a breakfast burrito if you're into that kind. But really, most taco trucks and stands are pretty amazing around here.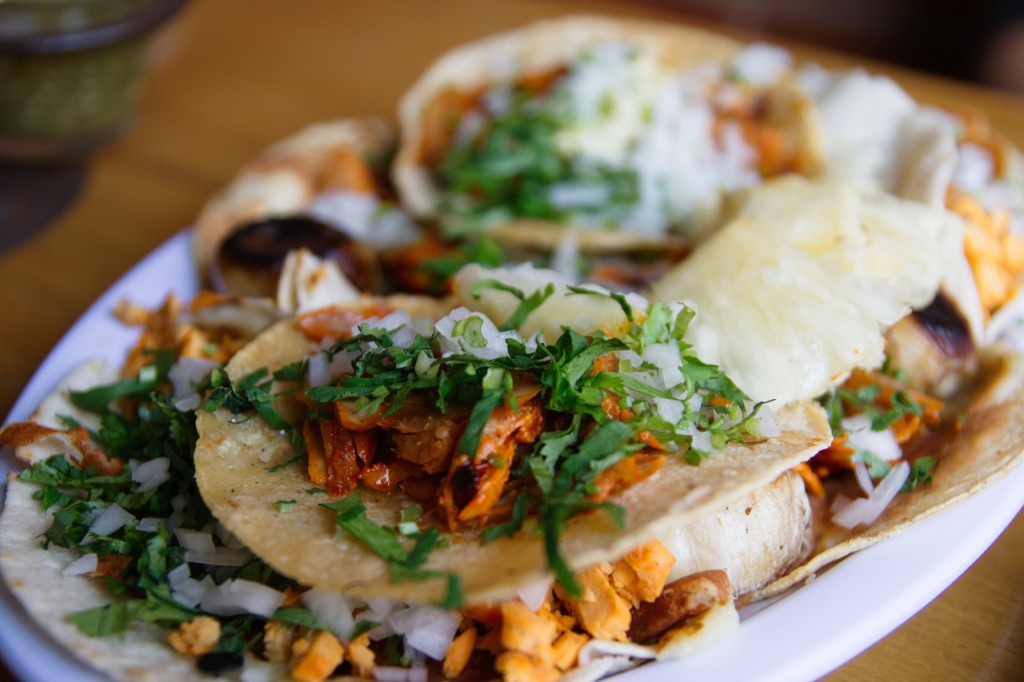 Other nearby options: Need a fancy place to celebrate your Online Journalism Award or wine and dine with your boss? Craft is delicious (get the hen of the woods) and Hinoki and the Bird is great, too. Need a quick lunch? The food court at the Century City Westfield is actually really great. I know, it's a mall, but it has the best, most varied food court you're going to find. I like the ramen place. Clementine is supposed to be a good spot for you vegetarians.
Dinner a drive away: It's a short drive to Sawtelle, or Little
Osaka. There you can find ramen and japanese pancakes, as well as an awesome bread pudding shop, B Sweet. 
Want to really explore? Koreatown is a close enclave of everything Korean, from Korean BBQ to knife-cut noodles. Head to the San Gabriel Valley on Sunday for some dim sum at Elite or NBC Seafood. Go back downtown for an authentic and amazing Italian meal at Maccheroni Republic.
Foodie? Son of a Gun is amazing tapas-style, southern-influenced food. Get the shrimp toast and some oysters. The chefs there also run Animal. Saint Martha, in Koreatown, is a great place that's super under-rated, too.
Get outside
We hike and do a lot of outside things here, given the locale. You might want to hike to the Hollywood Sign, but it's crowded and not the most amazing hike in LA. But if you want to check it off your list, it's there.
Near: The canyons are pretty close to Century City and Fryman Canyon should be shaded and cool, There's a spot where it looks like a rainforest in the middle of the city. Runyon Canyon is also popular (read: crowded), but you might see a celebrity?
A bit of a drive: The Angeles National Forest is a great hike. Start at Adam's Pack Station (where you can get an amazing burger) and head to Hermit Falls or the cabin-filled route of Hoegee's Camp.
Beaches: If you go to the beach, two things: Sunscreen and get mangoes from the guy selling fruit out of a cooler. With chili powder and lime, preferably. If you get bored, rent a bike, You can bike through almost all the beaches in LA via connected paths.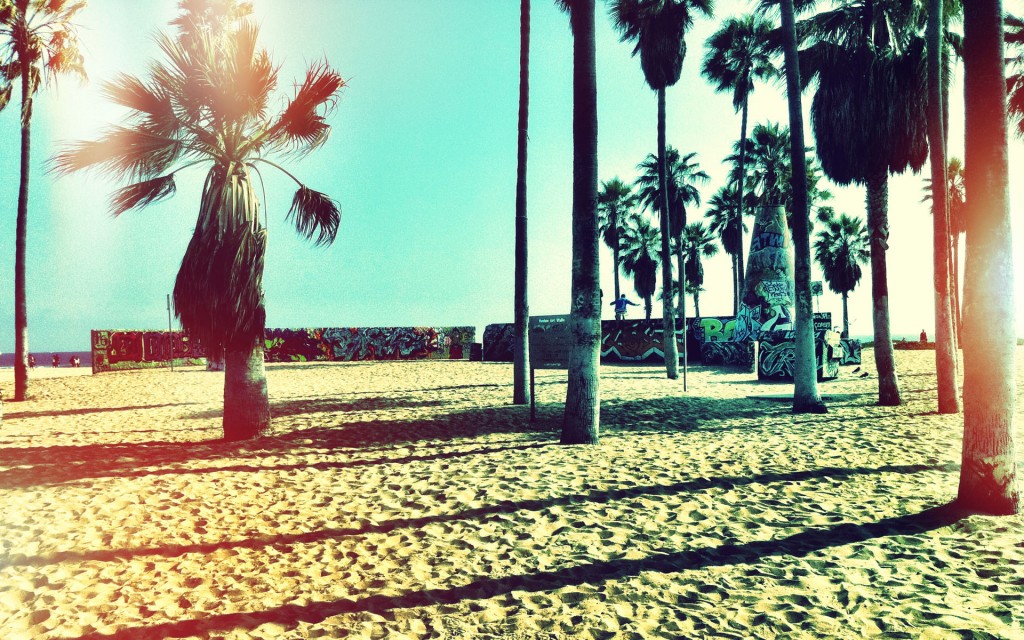 There are lots of beaches in LA, so here's a breakdown:
Want to shop to your heart's desire and then go to the beach? Santa Monica Beach.

Want the quintessential SoCal experience, complete with volleyball set ups? Hermosa Beach.

Want to have an awesome bonfire and bring a dog? Dockweiler Beach.

The best beach for visitors? Venice Beach. It's got everything you might have heard about Venice from the body builders to stands to some guy trying to sell you a medical marijuana pass. The beach itself is pretty nice, too.
Only in LA
Nearby: Brunch at The Abbey in West Hollywood is the craziest, greatest way to spend a lazy Sunday.
Not so nearby: If you want to get around a little more, walk the secret staircases of Silverlake. They're an intense workout. If you want a great tour of the city, book an Esotouric tour, but do it soon, because they sell out for a good reason. Take the train and head to Watts Towers to see some crazy city art.
And definitely, definitely try to hit up a museum.  Nearby, there's the weird Museum of Jurassic Technology and the Annenberg Space for Photography. The Hammer Museum is also really close. Not as nearby, go to the LACMA, which has an amazing bar and a giant rock you can walk under. (Fun fact: the city shut down dozens of streets to get the rock to the museum.) There's also the Japanese American National Museum, but the Hello Kitty exhibit just ended, sadly.
---
We look forward to seeing you at ONA15! Want a specific recommendation? Tweet me @kimbui with #ONA15 and I'll find you something!