It would be impossible to try to include all of the amazing food that LA has to offer in a single blog post (or even many blog posts). We will leave that up to Jonathan Gold and the food staff at the LA Times. But you're going to be in one of the best dining cities in the world for a few days, so even if you can't leave the area around the hotel, you should eat well.
In the Hotel
ONA15 host hotel Hyatt Regency Century Plaza is home to Breeze Restaurant, which is actually two eateries in one.  At breakfast and lunch, it serves farm-to-fork California cuisine, and at night it becomes Pan-Latin inspired Viento. Paleo, gluten-free and vegan dietary options are available (of course, this is LA), as well as sushi at lunch.
The Lobby Court and Patio bar offers plenty of seating and light food and drinks, with live piano every evening. X bar, also on the Lobby Level,  is open Monday through Friday evenings, with Happy Hour food and drink specials from 4-7 p.m.
Join Parse.ly for coffee daily at 9 a.m., in the California Lounge area, just outside the keynote ballrooms. The hotel will also set up kiosks on the Plaza Terrace with grab-and-go breakfast (from 7-9 a.m.) and lunch items (11:30 a.m. – 1:30 p.m.) for busy attendees all three days of the conference. Also, the Starbucks on the Lobby Level will be open until at least 4:30 p.m. daily (special for ONA15).  If  the line is too long, there are two other Starbucks in the immediate area of the hotel, as well as other places in nearby office buildings (and a Coffee Bean & Tea in the nearby mall) to get your caffeine on.
Snacks & The Mall
If travelers are looking for snacks and refreshments to tide you over to  meals in Pacific Time,  there are a number of markets within walking distance of the hotel, including Gelson's Market in the  Westfield Century City Mall and Mrs Winston's Green Grocery (which also has a huge salad bar!) at the adjacent 1999 Avenue of the Stars.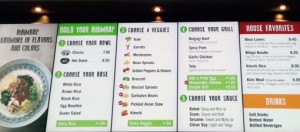 The Westfield Century City — a gorgeous outdoor mall across the street from the Hyatt — also has a giant food court with a variety of unique offerings from fresh ramen, bibimbap in hot stone bowls and Peking duck stuffed bao to burgers, sushi and kabob.
The mall also has a fresh juicery (Juice Served Here!), froyo and cupcakes, in addition to a number of full service/sit-down restaurants and bars. Highlights include:
Sadly, if you're looking to sample some of the city's famed food trucks, you may be out of luck in our neighborhood. Parking is notoriously tough in Century City. But check this resource around lunchtime to see if any trucks are headed to our area (then let everyone else know via Twitter on the #ONA15 hashtag).
A Splurge
All these studio folk, actors and agents gotta eat.  These two gems are both a block from the hotel:
Craft & Craftbar  – Explore this Tom Colicchio joint's main dining room or the less expensive Craftbar, with an array of small dishes all priced $20 or under.
Hinoki & the Bird —  Asian-inspired local cuisine. Fabulous people watching and amazing cocktails. Get a seat with a bar view or on the patio. Located on the ground floor  of the luxury condominium tower, The Century. Look up and you may see Candy Spelling (am I dating myself?)!
Meanwhile, in nearby Beverly Hills, celeb stalk at these five famous spots with excellent menus: